Compositions and Sheet Music
I write a lot of fiddle tunes, but also an occasional folk song, classical piece, rock song, or choral work. At present I have published one book: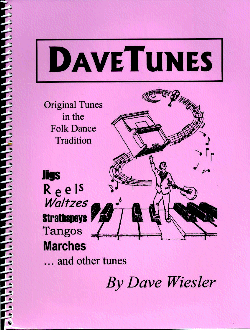 DaveTunes: Original Tunes in the Folk Dance Tradition
114 pages, self-published (1998), 2nd printing (2001)
Over 25 jigs including Brushfire, Falling Leaf, Another Wild Place Lost Forever, Cascades Park, Warfield Berry Jam and The Drunkard's Walk
Over 50 marches, reels, and hornpipes including Spy Rock, the Castles Aaaa and Bbbb, My Love She Is a Nut Brown Ale, Away with February, Seize the Day, Mice in the Crankcase, Monsters in the Cellar, Skunk in the Skillet, the Dolly Sods, Molasses Barge, Electric Storm Shuffle and the Halema`uma`u Rant
Over a dozen strathspeys including Full Fathom Five, Ft. Worden Sunset, Fiddler's Fancy, Lovers Not and After the Flood
Over 30 waltzes including The Water Clock, Judy's Jubilation, La Ceiba, Piper on the Hill, Ruth's Waltz, The Silver Shadow, and Julie MacRae's
Over 25 other tunes including airs, polkas, schottisches, hambos, a blues tune and a rag
The second printing is the same as the first printing except that I fixed a dozen typos and wrote a new forward.
Complete list of Dave's noteworthy compositions, sorted by name

or the same list, sorted by the recording or publication date,
including his recorded pieces and works that have been published by third parties, e.g. in dance instruction books.
For compositions that do not appear in my tune books, sheet music may be available on request.